As a parent, you want the very best for your baby, and that includes providing them with a safe and comfortable place to rest and play. Baby bouncers have become a staple in modern parenting, offering both entertainment and relaxation for your little one. In this comprehensive guide, we'll explore the world of baby bouncers, helping you make an informed choice that suits your baby's needs.
What Is a Baby Bouncer?
A baby bouncer is a lightweight, portable seat designed for infants to enjoy a gentle, rhythmic bouncing motion. These seats are equipped with a harness to secure your baby safely while they play, rest, or observe their surroundings. The soothing motion of a baby bouncer mimics the gentle rocking that many babies find calming.
Types of Baby Bouncers
Before you start shopping for a baby bouncer, it's essential to understand the different types available:
Basic Baby Bouncers: These are simple, no-frills bouncers that offer a gentle, manual bounce. They are often budget-friendly and provide a comfortable seat for your baby.
Battery-Powered Bouncers: Battery-operated bouncers come with added features like music, vibrations, and automated bouncing. They provide more entertainment options and may soothe your baby with calming sounds and gentle movements.
Convertible Baby Bouncers: Some baby bouncers can convert into toddler chairs, offering extended use as your child grows. This can be a cost-effective choice for long-term use.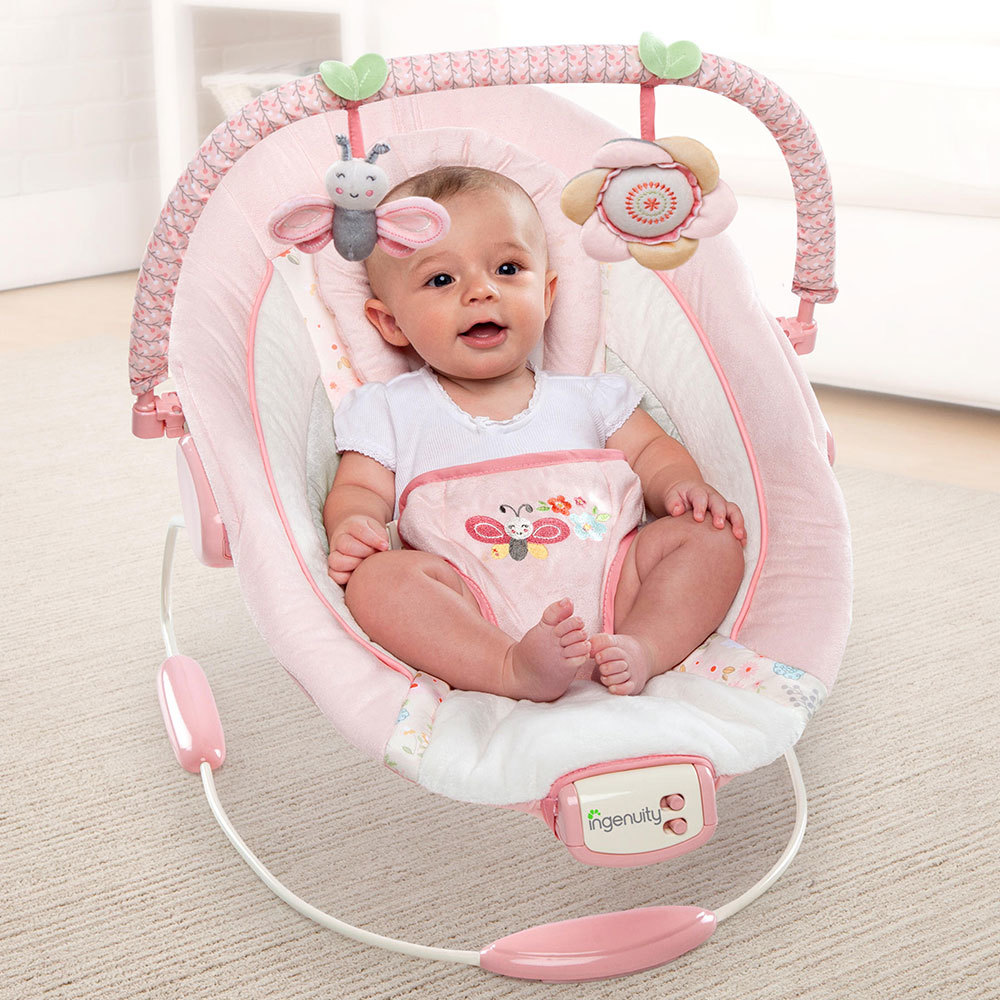 Key Features to Consider
When selecting a baby bouncer, keep these essential features in mind:
Safety Harness: Ensure the bouncer has a secure and adjustable safety harness to keep your baby in place.
Weight Limit: Check the weight limit to ensure the bouncer is suitable for your baby's size and age.
Comfortable Padding: Look for ample cushioning and a comfortable, ergonomic seat for your baby's comfort.
Portability: Consider how easy it is to move and store the bouncer, especially if you plan to use it in different rooms.
Entertainment Options: Battery-powered bouncers often come with built-in toys, music, and vibrations to keep your baby engaged.
Easy to Clean: Babies can be messy, so choose a bouncer with removable, machine-washable covers for easy cleaning.
Safety Certification: Ensure that the bouncer meets safety standards and is free from harmful chemicals.
Setting Up and Using a Baby Bouncer
Once you've selected the perfect baby bouncer, follow these steps for safe and effective use:
Read the Instructions: Carefully read and follow the manufacturer's instructions for assembly and use.
Secure Your Baby: Always use the provided safety harness and ensure it's adjusted correctly to keep your baby secure.
Place on a Flat Surface: Set up the bouncer on a flat, stable surface to prevent tipping.
Supervise Your Baby: Never leave your baby unattended in the bouncer, and avoid using it as a sleep solution.
Observe Your Baby's Comfort: Pay attention to your baby's cues. If they seem uncomfortable or fussy, adjust the bouncer's position or stop using it.
Safety Tips for Baby Bouncers
While baby bouncers are generally safe when used as directed, it's crucial to keep these safety tips in mind:
Age and Weight Limits: Follow the manufacturer's recommendations regarding age and weight limits.
Use in Moderation: Avoid prolonged use of the bouncer, as it's essential for babies to have opportunities for tummy time and interaction with their caregivers.
Check for Recalls: Regularly check for recalls or safety updates related to your baby bouncer.
Stay Informed: Keep up-to-date with the latest safety guidelines and recommendations from trusted sources.
In conclusion, a baby bouncer can be a valuable addition to your baby gear collection, offering comfort and entertainment for your little one. By considering the types, features, and safety aspects of baby bouncers, you can select the perfect one to provide your baby with hours of fun and relaxation while ensuring their safety and well-being.