As winter approaches, parents gear up to keep their little ones snug and comfortable in cold weather. A baby snow suit is a must-have garment for those chilly days when you want to venture outdoors with your baby. In this article, we'll explore the importance of a baby snow suit, how to choose the right one, and essential tips for keeping your baby warm during winter adventures.
Why a Baby Snow Suit Matters
A baby snow suit is more than just adorable winter attire for your little one; it's a crucial piece of gear designed to protect your baby from the cold. Here's why it matters:
1. Cold Weather Protection: Winter temperatures can be harsh, especially for newborns and infants. A snow suit provides an extra layer of insulation to keep your baby warm and comfortable.
2. Easy Outdoor Adventures: With the right snow suit, you can take your baby on outdoor adventures like walks in the park or trips to see the snowfall, ensuring they enjoy the winter wonderland safely.
3. Versatility: Baby snow suits are versatile, designed for both playtime and naptime. They keep your baby warm whether they're crawling in the snow or taking a winter snooze.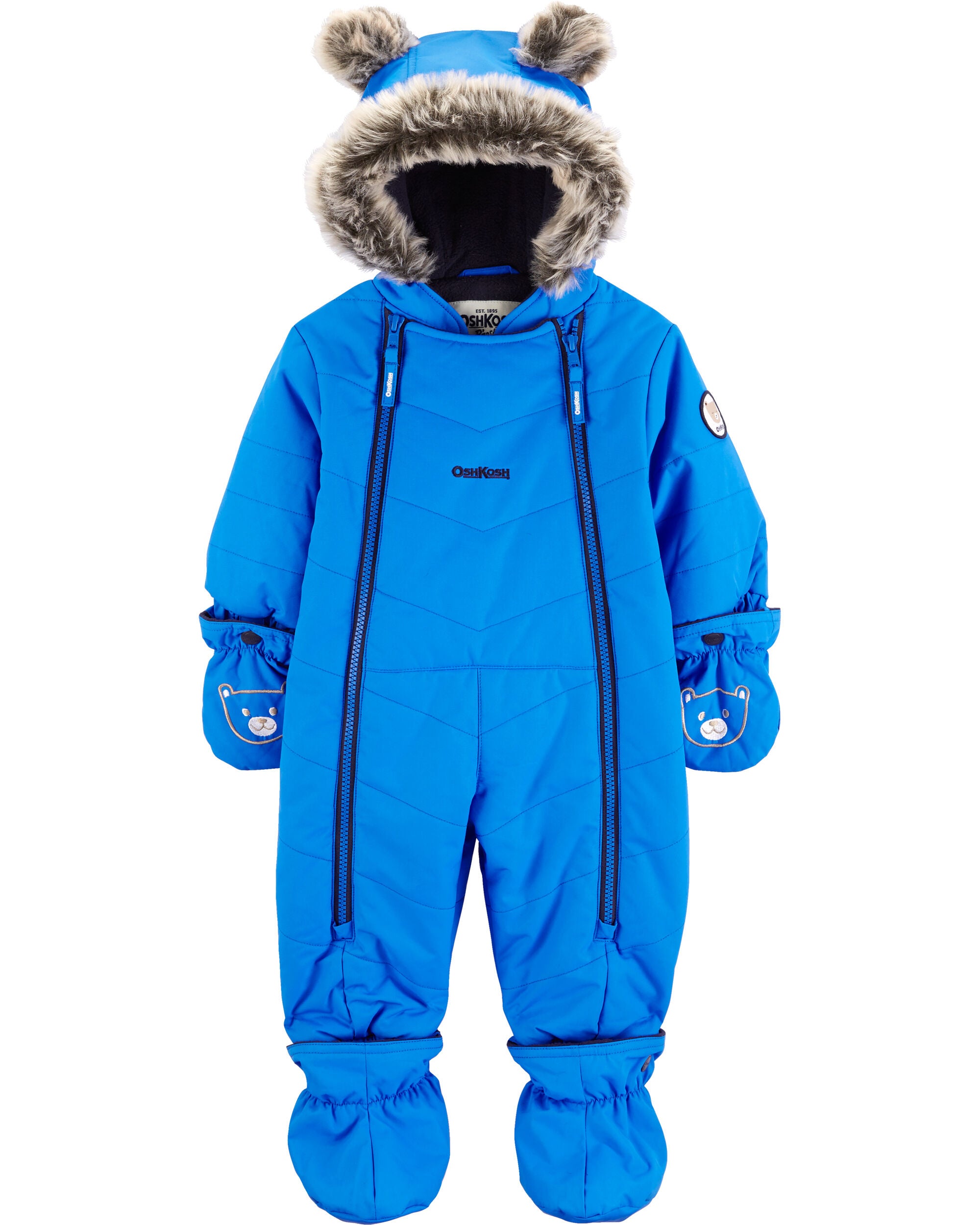 Choosing the Right Baby Snow Suit
Selecting the right baby snow suit is essential for ensuring your child's comfort and safety during the winter months. Here are some factors to consider:
1. Size and Fit: Choose a snow suit that fits your baby snugly but allows for some movement. Ensure there's enough room for layering underneath without it being too loose.
2. Insulation: Look for a snow suit with high-quality insulation to keep your baby warm without adding too much bulk. Insulated suits come in various thicknesses, so choose one suitable for your local climate.
3. Material: Opt for a snow suit made from a waterproof and breathable material. This keeps moisture out and allows your baby to stay dry and comfortable.
4. Easy Dressing: Look for snow suits with convenient features like full-length zippers, fold-over mittens, and removable hoods. These make it easier to dress and undress your baby.
5. Safety: Ensure that the snow suit you choose has reflective elements or bright colors to enhance visibility when you're outside, especially in low-light conditions.
Tips for Keeping Your Baby Warm
In addition to selecting the right snow suit, here are some tips for keeping your baby warm during winter outings:
1. Layering: Dress your baby in layers to trap heat. Use a moisture-wicking base layer, an insulating layer like a onesie, and the snow suit as the outer layer.
2. Warm Accessories: Don't forget warm accessories like hats, mittens, and booties to protect your baby's extremities from the cold.
3. Check for Overheating: Pay attention to your baby's comfort level. If they become too warm, remove a layer or open the snow suit to allow ventilation.
4. Short Trips: For very young babies, it's best to keep outdoor trips short to prevent them from getting too cold.
A baby snow suit is a winter essential for any parent. It not only keeps your baby warm but also allows you to enjoy the magic of the season together. By choosing the right snow suit, dressing your baby in layers, and taking necessary precautions, you can ensure that your little one stays cozy and comfortable throughout the winter months. Embrace the snowy adventures with your baby while keeping them safe and warm in their adorable snow suit.